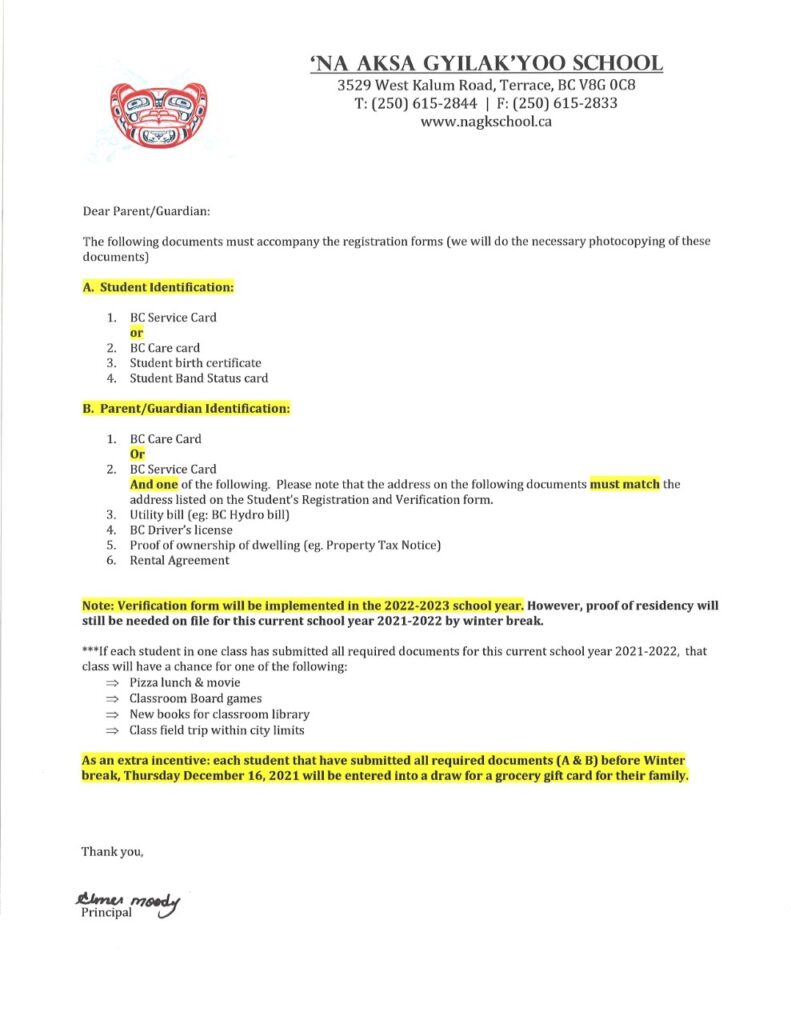 Ama Sah Parents/Guardians,
I hope this email finds you well.
You will be receiving this notice will also be sent home with your child today after school.
We will be going through the student files to see what is missing documents that are required and will let you know by email.
Take note of the extra incentives for submitting all required documents.
If you have any questions and or concerns relating to this email/newsletter or any other school related matter feel free to send me an email or hit reply or call the school and we can answer any questions.
Last two weeks Lunch Menu:
DECEMBER 6 – 10
Monday Dec 6 – Penne noodles with tomato sauce and italian sausage
Tuesday Dec 7 – Honey Garlic Chicken and rice
Wednesday Dec 8 – Beef barley soup and buscuits
Thursday Dec 9 – Turkey sandwich
Friday Dec 10 – Shepherds Pie
DECEMBER 13 – 17
Monday Dec 13 – Chicken Caesar wraps
Tuesday Dec 14 – Spaghetti
Wednesday Dec 15 – Turkey Soup
Thursday Dec 16 – TBD
Friday Dec 17 – TBD
Have a wonderful weekend with your family.
Stay safe, stay healthy!
Sondra Henry | Sym Gyemk Gibaaw Hana'ax | Administrative Assistant 
'Na Aksa Gyilak'yoo School  | 

P:(250) 615-2844

  |  F

: (

250) 615-2833
Physical Address: 3529 West Kalum Road | 

Kitsumkalum, BC V8G-0C8
Mailing Address: PO Box 544 | Terrace, BC V8G-4B5
"A nation's culture resides in the hearts and in the soul of its people." ~ Gandhi